wordsout by godfrey rust
Days & Seasons back to lent forward to ascension
---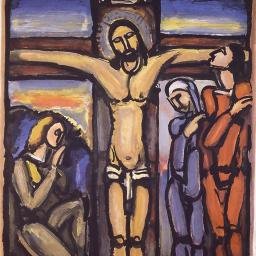 Easter

Poems and readings for Holy Week
---
Palm Sunday
Don't stop: thinking about tomorrow...
Maundy Thursday
"Peter at the cock-crow, Jonah in his fish..."
"I take salvation over-easy..."
Good Friday
From Pontius Pilate's press spokesperson
"Between time and eternity nothing was fixed."
A balanced account
A synopsis of Jesus' badly misjudged life
God talks to themselves
Beginning to understand
Seven poems introducing the seven last sayings of Christ
Holy Saturday
Eternal tension
Isolation at the dead centre
Easter Sunday
"And if you ask me what a Christian is..."
It's you who's holding them together
---
These Easter poems may be used in services or other events to tell the whole Holy Week story, on specific days or in different combinations (typically with music, images, bible readings and/or drama).
The sequence words from the cross can be used as the basis for a one- or three-hour Good Friday meditation. An example of a complete service is shown here.