wordsout by godfrey rust
Welcome To The Real World < 38 of 59 > < family >
---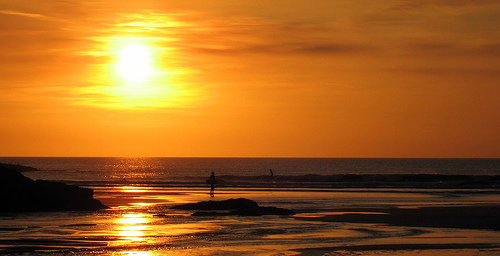 At Mawgan Porth
Late that first afternoon of holiday
we set off—Emma bright at seven, Joel
determined nearly four—to find the path
down to the beach. The bathers were all gone,
and the retreating tide had left a trail
of streams and limpid pools. Emma called out
Follow the river to the sea, and so they went
running and falling in a splash of laughter
to the water's edge. There Joel stood,
Canute-like, to rebuke the indifferent waves,
while I sat down out of the breakers' reach
watching his sister leap in sparkling water,
their shouts ringing across the empty bay.
It may have been no more than the fatigue
of five hours at the wheel, but as I looked
these figures, black against a dazzling sea
cradled between two headlands, heaping sand
into a makeshift fort, brought something
from my mind's eye into focus, and I knew
the phrase's meaning, I forgot myself.
The cares, doubts, failures, fights, petty ambitions
that claw like harpies at our blind endeavours
were resting, or had been called off a while,
setting this scene into parentheses
between the unproofed texts of what we were
and what we might become. This was a place
from which innocence had barely taken leave,
like Eden hardly fallen, still uncursed,
as if we did not know there is no cure
for life's long sickness. While I looked it seemed
the sun hung motionless, as once it did
when Joshua fought the Amorites, or so
the story goes, and we were all to be
forever young in health and hope and laughter.
Perhaps God in his dark unravelling
of the virus of the world's misdeeds had paused
to leave one glimpse of grace between
black crags of rock. I had no camera,
but I would not have used it anyway,
for nothing keeps them—sunsets, sandcastles
or children—and I can only follow down
the river of their growing to the sea
of their majority. An hour had passed.
Two distant figures exercised a dog,
quite unaware that on this flat half-mile
of hard, wet sand had just been acted out
a small epiphany; and walking back, Joel,
plaintive under the weight of plastic spades,
said It takes a long time, dunt it? No,
not nearly long enough; though time will wipe
all but the faintest traces of today
from your encroaching memory as you race
fast forward into a grown-up world, yet when
God, browsing in the ruins of history,
freezes-frame on moments about which
he can say Here at least I am well pleased,
then somewhere a man in early middle-age
sits on an almost-empty Cornish beach
watching as two silhouettes play out
their endless childhood in the setting sun,
Joel's wild hair blown like sea-spray in the wind
and Emma dancing on the golden waves.
---
For Emma and Joel Rust. Mawgan Porth is a village on the north Cornwall coast.
© Godfrey Rust 1993, godfrey@wordsout.co.uk. See here for permissions.