wordsout by godfrey rust
< family >
---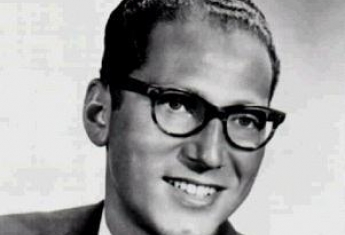 My life with Tom Lehrer
Tom Lehrer entered my untroubled young mind before even the most elementary educational system could begin to protect it. My father brought back two LPs (that's a round, black plastic thing with scratches all over it, but never mind that now…) from visits to the USA in the middle and late 1950s—a ten-inch copy of Songs by Tom Lehrer, and later the live concert recording An Evening [Wasted] With Tom Lehrer.
This said something about my Dad, although I'm not sure what. He was a quiet and decent man, a successful accountant whose potentially outstanding career was cut short by heart problems, which led to major surgery three times and to an early death at the age of 51 in 1974. I was still at Warwick University "studying" philosophy and literature (Bright college days, oh carefree days that fly…).
My father had a pleasing sense of the ridiculous, although this did not extend to the absurdities of Monty Python and its derivatives. When John Cleese first did his Silly Walk, my mother and I were paralysed with laughter (she slid off the sofa onto the floor) while my father merely sat bemused. But he liked verbal humour (excuse me, humor) and somewhere in him was a subversive streak that made him happy for his three children to be exposed to material which, quaint as the idea now seems, was regarded as too shocking at the time to be heard by adults on mainstream American radio.
I guess that he was introduced to Lehrer by an American colleague: I don't suppose he saw him in concert there, though it is an appealing thought. In any case, Lehrer's LPs found their way into our modest collection alongside Jimmy Rodgers and Harry Belafonte in the mahogany former cocktail cabinet which housed our auto-changing, 4-speed turntable.
By the age of eight I knew every sardonic word, every intonation and the timing of his introductions and asides ("you're way ahead of me…"). I was relieved to find, on hearing other recordings recently, that this patter was as precisely rehearsed as the songs themselves: it would be scary to think anyone could improvise as well as that. Aged eight I had digested the sleeve notes and the fake newspaper stories on the cover of Songs. Aged twelve I had learned the words of The Elements, slowing the LP down to 16rpm (these plastic discs were played at different speeds, and …oh, never mind) and transcribing them laboriously.
I fully understood perhaps a third of the material. I knew the songs were funny, but had only a vague idea about the subject matter (we didn't have daytime TV in those days). I couldn't even make out all of the lyrics very precisely, especially at 16rpm: until quite recently I was convinced there were substances called Lanthorum and Ledporess in the Periodic Table.
A substantial slice of my foundational knowledge of American culture came from those two discs. For me the parodies worked in reverse and became primary sources of learning. I learned about the American passion for hunting and the great outdoors, its North/South divide, its reverence for sports and academia, its commercial obsession, the appaling democracy of its military institutions and the studied shallowness of its pursuits of pleasure (ah, the Wienerschnitzel Waltz…) from Lehrer. Somehow My Home Town and The Old Dope Peddler evoked small town middle America more authentically, and (bizarrely) with more affection, than any Fifties musical.
Adulthood may be defined as being the time when a person understands all of Tom Lehrer's jokes (by which measure I calculate that it will soon be arriving before puberty). But the complexity of childish minds can process most things into a kind of knowledge. The contents of the reefers to be concealed from the Scoutmaster, and exactly what the cute little girl next door used to give for free were as opaque as the precise nature of Oedipus' relationship with his mother; but we laughed and sang along anyhow.
They weren't played all that often. They didn't need to be, they had reached mythic status in our family by that time, as deeply ingrained on our collective consciousness as my Dad's own nonsense jingles ("Oh Nicholas, don't be so ridicalous, the I-don't-like-it-in-the-daytime-boy" was among his favourites that linger). On New Years' morning, around 2am when the partygoers had gone, Lehrer would come out and crackle round the turntable. By the time I was fifteen the albums had become unplayable, scratched, warped and sticky, with random jumps adding to Lehrer's esprit de corps. The phrase universal brouhaha straddled one of those clicks and still repeats endlessly in my mind whenever I hear it (which is never, apart from on An Evening Wasted…)
I don't know what eventually became of the discs themselves. Soon I was sliding down the razorblade of life, and for twenty years, until I acquired a copy of the songbook Too Many Songs By Tom Lehrer, the songs were occasionally practised, like gargling, only as part of our family's oral tradition. My own musical career was flourishing by now, from my debut at age ten as lead guitar and vocalist of the Minibeats at the St John's Church Harvest Supper in Ilkley to the heady heights of fifth on the bill at the Eights' Week Ball at one of the lesser-known Oxford Colleges playing Crosby, Stills and Nash cover versions.
Lehrer could not be kept entirely out of this, of course. For reasons of some obscurity I was approached to play guitar and piano in a student revue group – Café Theatre – at university. The previous accompanist, a jovial, moustachioed barman (excuse me, bartender) named Mal, had got a little too involved in his work and as a result had developed an unfortunate tendency to fall over in the middle of shows. Although he held a technical advantage over me in that he could actually play from the little black dots and lines on the paper in front of him, on balance the show's director decided that a complete performance was preferable to an accurate one, and so I got the gig.
The show that year was Cupid's Happy Heart Show, a celebration of love in all its wonder and dreadfulness. The title came from a skit on an American tv game show in which the contestants won life partners, an idea which was proved only thirty years ahead of its time by the making of Who Wants To Marry A Millionaire in 2000. The show worked on parody, bathos and excruciating mood swings: my own solo contribution followed an uplifting pastiche of a romantic French film, ending with the besotted lovers gazing into one another's eyes as I launched into Lehrer's gruesome I Hold Your Hand In Mine.
At the same time my eldest brother Chris had grown an impressive beard and had therefore taken up a career as a folk music entrepreneur and performer of a particular sort, involved in various pub-based events in and around Birmingham and for a time leading the Knees-Up Band, an indefinite ensemble of uncertain musicality whose closest inspiration was the skiffle musician Lonnie Donegan. Chris's own solo repertoire included the Masochism Tango, performed imprecisely but with flair, leaping on at least one occasion literally from table to table, and the Knees-Up Band did a very nice a cappella Old Dope Peddler, with the chorus echoing the last word of each line: When the shades of night are falling (falling) comes a fellow everyone knows (nose)…on to the cheap but effective pay-off line – with his powdered happiness (pe-nis!).
My own career in parody writing began at university but only took off some years later through my involvement with the Anglican Church, an organization with such an absence of theological clarity it would defy even Lehrer's abilities to subvert. Lacking both musical competence and originality, I adopted the calypso as my preferred form as it required little in the way of melody, and with the more words crammed into a line the better. In fact, the only prerequisites are a reasonable hook for the chorus, a bad mock West Indian accent (which in my case would wander easily into Welsh or Italian, but no matter), some dreadful rhymes and in-jokes appropriate to the context.
I have turned out dozens of these over the years, interspersed occasionally by a country & western spoof, or on special occasions wholesale rewrites of large chunks of the repertoire of Paul Simon, the Beatles, Julie Andrews and (for the wedding of a friend to a Swedish dancer) Abba in the guise of Supergroup SAAB ("Carina takes it all…"). Lehrer was inspirational for the rhymes but can be blamed for little else. My own local success with in-joke parodies only showed me how hard it is to do for a general audience. I could churn out a passable McGonagall inside an hour (Let us now praise the great Donald W McRobbie, a man for whom playing the guitar was always something more than just a hobby) but it was dependent upon communal knowledge and a sympathetic audience. To do the same without reference to occasion, locale or personality is quite something else.
I nearly met Lehrer once. In 1979 I was working for a music trade magazine in Covent Garden, sharing offices with Martin Tickner, editor of the West End programme producers Theatreprint and somewhere between being a friend and an acquaintance of Noel Coward (but perhaps I'd better leave the next line out just to be on the safe side). Martin and I sometimes lunched with one or other of his theatrical reviewers, editors or other cohorts like Adam Faith or Joyce Carey. I managed to miss the only two I coveted. Jenny Agutter, whose red flannel petticoat was waved indelibly into my consciousness in The Railway Children; and Lehrer, who was in London for Cameron Mackintosh's West End show Tomfoolery, which revived interest in his songs. Martin lunched with them both on days I chose to go to a different pub.
My friend John Hereward was curate at our church for a few years, and at his request on his 40th birthday Jo Whitfield and I entertained the church leadership to a revue of eight or nine Lehrer songs including the Masochism Tango, concluding with John joining in the Vatican Rag. The programme's enthusiastic reception was a sign of the robust and deeply confused theology of St John's. Jo and I repeated the show for entertainment at my company's management conference. I have played Poisoning Pigeons and I Hold Your Hand In Mine to groups of elderly ladies at the church Drop-In centre and to seven- to ten-year-olds at the co-operative school we used to run.
Lehrer's followers crop up everywhere. At dinner one evening at the Alexander Nevsky restaurant in Helsinki I discovered one in the shape of the wife of our American guest, a heavily mascara'd, whisky drinking and hard-swearing southern belle of uncertain age who was a choir leader at a large Southern Baptist church. The evening ended with our rendition of The Elements to a restaurant empty of all but a small group of bewildered Russian waiters.
In Anglo-American culture, Lehrer's repertoire is unrivalled. The USA has produced any number of smart-ass songs and songwriters, but without Lehrer's range or depth. In England Flanders and Swann are cherished, but Lehrer is in a different league. Just as the Beatles' canon is so far ahead of anything else in popular music in the second half of the 20th century (Tessa and I went to a concert of the tribute band the Bootleg Beatles, and in a two hour set of classics they left out at least eight Number One records) so Lehrer's range is untouchable.
One reason for his persistence is that his humor is generic. He has never settled for the simply topical gag. While one or two love songs (such as The Weinerschnitzel Waltz) may be period pieces, practically everything else resists the ageing process. Drugs, pollution, abuse, racism, sexual politics, impropriety of every shade and hue…Lehrer has lovingly catalogued human folly and hypocrisy with a depth that has only become apparent through its longevity. I listened to Send the Marines in June 2002 while the newspaper talk was of George W. Bush planning to invade Iraq, and (tragically) it might just as well have been written for that very day.
Another reason for his endurance is that he is, in certain genres, a virtuoso. His composition is more than competent: The Old Dope Peddlar is a poignant, nostalgic melody; We Will All Go Together a better revival hymn than most. His voice is perfect for satire. His timing is immaculate (you're way ahead of me…). The fact that his repertoire is limited and (by definition) derivative is in itself an asset, for he draws on decades of melody and technique. It's no surprise that he stopped writing: there are only a certain number of important things to be said about anything. Most creative people, if they're lucky, have one or two "hits". Really smart ones reach double figures. Lehrer came out with several dozen - and few misses.
Like the Jesuits, Lehrer works best when he gets them young, and now my children are in his grip. At ten, Joel took a Lehrer CD to his school music class to play Poisoning Pigeons. Only one other boy had brought anything for the lesson, so they played five Lehrer tracks. Bringing several boys back from the school play they were giggling in the back singing The Hunting Song. More business for Amazon.com.
The CD became the subject of competition for bedtime listening. Adam at seven played himself to sleep night after night with Lobachevsky on repeat. (One night it was left on, leading to the eerie notion of Lehrer's cod Russian accent urging the sleeping house to plagiarise for seven consecutive hours). Adam's first knowledge of Pythagoras has come from Brigitte Bardot playing part of ccccccccHypotenuse…
The boys can now perform the songs on their own. They have done The Irish Ballad at a church concert. Adam performed L-Y at his school concert with a backing track CD accompaniment made by Joel on his Noteworthy Composer computer programme, and his audition piece which helped get him acceptance for the Arts Educational school was Pollution.
In the car on our holiday in France, Lehrer takes one of the sought-after slots on the CD-changer (only now its my children who make the choices). The back seat has been the site of mad giggling to the bloodier parts of Oedipus Rex and requests for endless repeats of Clementine. "I drank wine, she drank chocolate malts…" is shouted in unison as The Weinerschnitzel Waltz becomes a momentary favourite. Later at the campsite, Adam, just about to turn eight, said "Dad, I think Tom Lehrer is the funniest songwriter there has ever been". Who would argue?
Lehrer said that humour didn't alter anybody's way of thinking but only reinforced their prejudices. He just wanted to get a laugh, not to change people's minds. Fifty years on he's done worse than that: his songs have been shaping my children's minds from the very beginning.
---
Written in March 2003 for no good reason.