wordsout by godfrey rust
The last straw < 7 of 8 >
---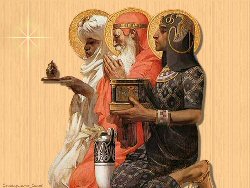 The magi
Will you study these signs
as carefully
as you study the prices
in the Christmas catalogues?
Will you seek out the manger
as diligently
as you search for the right scarf
or this year's toy?
Will you examine
your heart's pilgrimage
and be sure towards what stable
it carries its precious gifts?
Will you be a wise fool
to find and follow
the strange star of truth
in a sky full of glittering lies?
---
Written to introduce the bible reading Matthew 2 2-12 in the carol service sequence The last straw.
© Godfrey Rust 1997, godfrey@wordsout.co.uk. See here for details of permissions.
.