wordsout
< Poems by Charles Jobson > < Poems for BEAT >
---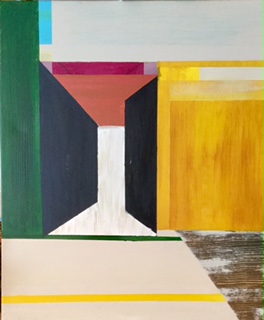 the shape of tomorrow
hold back the light
a solid unbroken support
clashing in colour
fixed like a rainbow
yellow on green
contrasting shades
breaking a non-resistant mould
claiming their own freedom
a damp terracotta tile
lying horizontal and waiting—
things to come
different moods, different planes
suddenly one form opens
an arched doorway
to a bright future
where tint and angle collide
so when the tumult dies down
dawns the shape of peace
and hoped-for quiet
all under a multicoloured sky
---
One of of four poems written by Charles Jobson in response to paintings at the BEAT (Borough of Ealing Art Trail) exhibit at St John's Church, West Ealing in September 2017.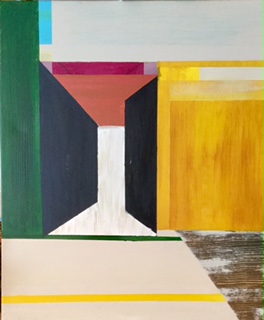 The painting is untitled, by the artist and © Virginia Bruno.
Poem © Charles Jobson. For permission to re-use contact godfrey@wordsout.co.uk.