wordsout by godfrey rust
BREAKING THE CHAINS < 54 of 61 > Homage au Professor < 2 of 8 >
---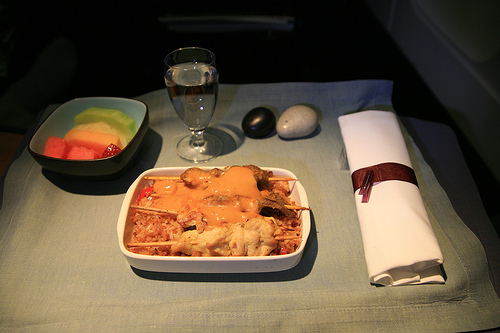 The Flying Professor
When they're stacking for miles above Orly
and Heathrow is shrouded in fog
and the captain of many a grounded plane
makes an entry of gloom in his log,
when the seat reservation computer
has crashed and gone down with all hands
and the bags have been sent to Vancouver
when the labels said Grange-over-Sands,
to a seasoned air traffic controller
the reason is perfectly plain,
and the crews all exchange knowing glances—
the Professor is flying again!
In the queue at gate B27
in Melbourne or Bangkok or Rome
he is clutching his boarding card tightly
like the key to his second home,
and the faces all seem so familiar
as he settles down into his seat,
and they hand him the Herald Tribune
and they hand him a purple boiled sweet
and the widebodied 747
taxis off with immaculate care
till it charges headfirst down the runway
and climbs up to heaven knows where,
and while he's the first to acknowledge
that travel has broadened his mind
he suspects it of having an equal effect
on his waistline and on his behind,
so he presses the recline button
and kicks off his travelling shoes
and pulling the eyeshade down over his face
drifts off into sleep—well, a snooze—
and he's snug in his blow-up neck collar
with the plugs nestled tight in his ear
and the stewardess straightens his blanket
and whispers "Rest now, you poor dear…"
In the legends of aviation
a tragic new tale has begun,
as poignant as Icarus seeking
a weekend away in the sun—
it's the curse of the Flying Professor
condemned to stay up in the air
because half of his family lives over here
while the other half lives over there.
And sometimes, when changing at Frankfurt
or stopping for fuel in Bahrein,
his future life passes before him
in the form of a journey by plane.
Like a scene from a play by Sam Beckett
he is somewhere that's just in between,
writing pieces on shopping in Aix-la-Chapelle
for Aer Lingus in-flight magazine,
and he can't find the summoning button
as the stewardess flashes a smile,
and he's one seat away from the window
and he's one seat away from the aisle
tied up in an orange lifejacket
that will never completely inflate
while another light meal is served every half hour
and left, just out of reach, on a plate,
as they hit little pockets of turbulence
(you do on the smoothest of trips)
which come at precisely the moment
he lifts his full cup to his lips,
and the film is something from New Zealand
that has not reached the cinemas yet
and he can't seem to alter his earphones
which are tuned in to Tammy Wynette
and he quietly fingers his sick-bag
for he's not one for making a fuss
but perhaps it's the slight whiff of sulphur
that's making him so nauseous—
and he has an uneasy feeling
as the FASTEN YOUR SEATBELT sign warns
he could swear that the grinning attendant
was wearing a small pair of horns—
as the tyre-rubber burns on the runway
he knows there's as much of a chance
of his reaching the end of these wanderings
as Glenn Miller of landing in France,
and he's sure now he journeys in vain to escape
the conclusion he cannot resist:
if it's better to travel in hope than arrive
he's the world's number one optimist.
---
For Colin Duckworth.
© Godfrey Rust 1992, godfrey@wordsout.co.uk. See here for permissions.