wordsout
< Poems by Charles Jobson > < Poems for BEAT >
---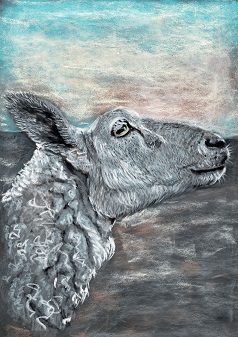 Sheep
More than a holy creature,
sheep are our natural companions,
a heritage stretching back
to times of ancient shepherds.
Don't mistake their foolish ways
for a lack of sense.
Here is ancient guile,
knowledge of the real world.
The fleece is a timeless symbol,
pure or tainted,
alternating between brilliant white
and unadorned grey or black:
while we humans try to tame
our hostile environments
the sheep is simple proof
of the sacred in the wild.
---
One of four poems written by Charles Jobson in response to paintings at the BEAT (Borough of Ealing Art Trail) exhibit at St John's Church, West Ealing in September 2019.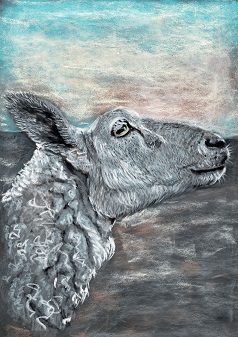 The painting is entitled Looking Eastward, by the artist and © Kim McLaughlin.
Poem © Charles Jobson. For permission to re-use contact godfrey@wordsout.co.uk.