wordsout by godfrey rust
st john's ealing >
---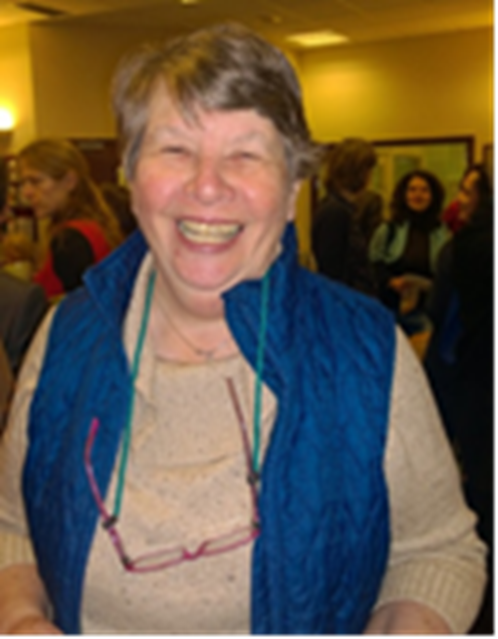 Carol
for Carol Vigurs
Carol? Who was Carol? The reviews are in.
A good sort. Calm and steady. Genuine.
Heartfelt. A lady. Energetic. Hated shopping—
couldn't choose and really didn't think
about what she looked like. Preferred to be
in the background. Gave to charities,
World Vision and the donkey sanctuary.
A Deaconess with an Australian twang.
Not someone who'd expect
to have a poem written about her.
That was Carol.
In her work, she was steady under fire
among the temperamental luvvies at the BBC
whose payments she took care of.
Never had favourites but played it straight.
When she went there Linda found
being her sister opened doors. They would do
anything for Carol. Dependable. Loyal.
Not very practical, and sometimes lacked
the confidence for certain tasks. That was Carol.
Open to new things, but not restless.
Loved opera, but not loud music (how did
that work?).
Didn't want to get up in the morning. Disliked
bananas.
Knew all the children in the street. Was a grandma
even though she had none of her own,
and she and Linda gave holiday respite to all the
local pets.
Cats adopted her. She never bought one,
they just turned up and found her lap:
while she solved the crosswords and jigsaws,
worked out whodidit in the whodunits,
and whizzed through books. Patient, but
never dull,
she liked the tv shows about forensics.
Resilient, she had learned you had
to stand up for yourself.
Not especially sentimental. Kelli said
she never had a bad bone in her body.
That was Carol.
Watched Hyacinth Bucket and went
white water rafting. That was Carol.
Considerate to the point of lunacy:
at 3am she was prepared to sit for hours
with the lock jammed in the lavatory
so that she wouldn't disturb anyone's sleep,
and when the firemen finally came to free her
they woke the whole street up anyway.
She didn't like to make a fuss. That was Carol.
Stubborn to the point of exasperation.
Liked a day of cricket at the Oval,
ballooning, horseriding, read the paper
but didn't watch the news. Her cheerfulness
warmed a chilly church: she always said
the thing that was encouraging.
She kept her word. She looked out for people,
for example, kept the company for an hour
each day
of a convalescing friend with little conversation.
With her own cancer she was brave, happy to
pull through.
Good that the end was sudden when it came.
She'd have hated a decline. She had no fear
of what comes next, and no unfinished business.
That was Carol.
And so here is
one last puzzle for you to solve, Miss Vigurs,
one final calculation of accounts:
what does a life amount to, when it's gone?
Is it the work done, or the care
with which each person's business was
despatched?
Is it the money earned, or the good
that was done by getting rid of it?
Is it the things achieved, or the time spent
waiting while love goes about its slow business?
Yours was a life of quiet investment,
and so where is this treasure now? Have you
taken possession of it with interest
in your mansion in your Father's house?
If so it's probably more spacious
than 1B Loveday Road. Well, we'll find out.
But did you leave a legacy for us
more than just the memory of your brilliant smile
and your continual encouragement?
Yes, for love changes things, not only in
the moment
but through the making of relationships
love passes on like DNA.
It shapes the generations
and does not leave our stony hearts unturned.
We are all carriers of love and hate,
and you were unambiguously the former.
---
Read at the memorial service for Carol Vigurs at St John's, West Ealing on February 22nd, 2018.