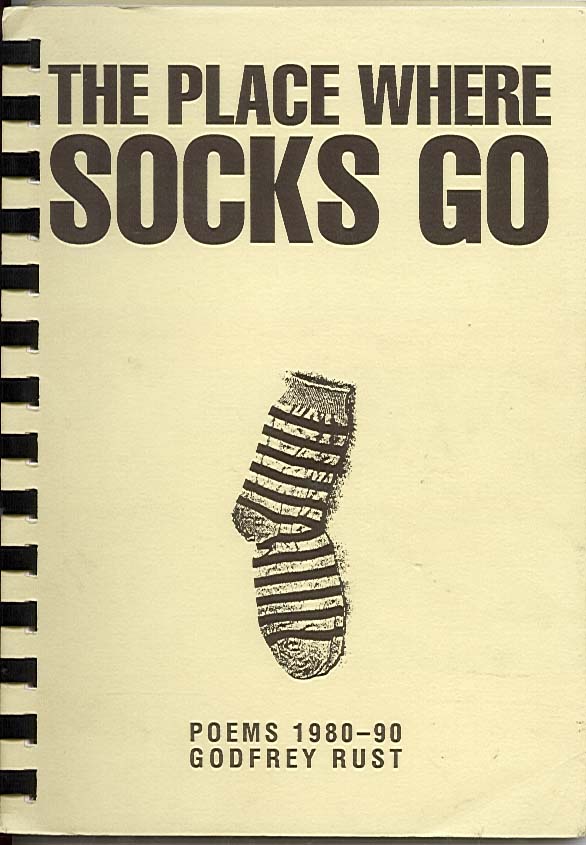 THE PLACE WHERE SOCKS GO
Poems 1980-90
published by Asset Publications in three editions 1985-90.
I started writing poems again in 1980 after a break of some years, and began performing them regularly from 1983 in concerts with Geoff Shattock (as a guitar/vocal duo called, excitingly, Shattock and Rust). This led to demand for copies and the first edition of The Place Where Socks Go in 1985.
It was an early venture in print-on-demand: I laser-printed and comb-bound copies as needed and so was able to add, amend and remove poems in successive reprints. There were three distinct editions (1985, 1988 and 1990), the last with a cover (above) by Simon Jenkins, now editor of Ship of Fools. About two thousand were sold.
The first edition contained 45 poems and by the third edition 29 more had been added and 16 dropped as being too dull or dated. Most of the survivors found their way into Breaking the Chains, a further dozen being retired, at which point production of Socks ceased. Of the poems which survived the course, several underwent major surgery along the way, including the title poem, and others were renamed.
This page shows the Table of Contents of the final 1990 edition. The poems are published here in their current form. Those which were not originally carried forward into Breaking the Chains are mostly not reproduced, although for curiosity value I have included Babel, the first poem I wrote in 1980, and a few others that made me smile on re-reading.
The poems below appeared in this order in the final edition
In Foyle's Bookshop
Joseph and the shepherds
The journey of the Magi (cont.)
Missing
Signs
Casualties
The Devil's Tinderbox
Mr Yates
Dream
Sharks
Phantom
Prophet and loss
The comfort of the rain
A Laodicean estate agent writes
Paul's Letter from Delirium
Script
Arithmetic
Columbus
Icons
In Gethsemane
Economics
Other poems appearing in earlier editions
Beirut (original poem of that title)
Communion of saints
Depends how you look at it
ET (the Extra-terrestrial)
Finger-Counting Rhyme
Heart and mind
Home improvements
Hunger
Incident at dinner
On a Melbourne tram
Probability
The first football riot in China
The Gallery
Two by two
Two-Timer
Two down