wordsout by godfrey rust
Eulogies < 5 of 7 > < family >
---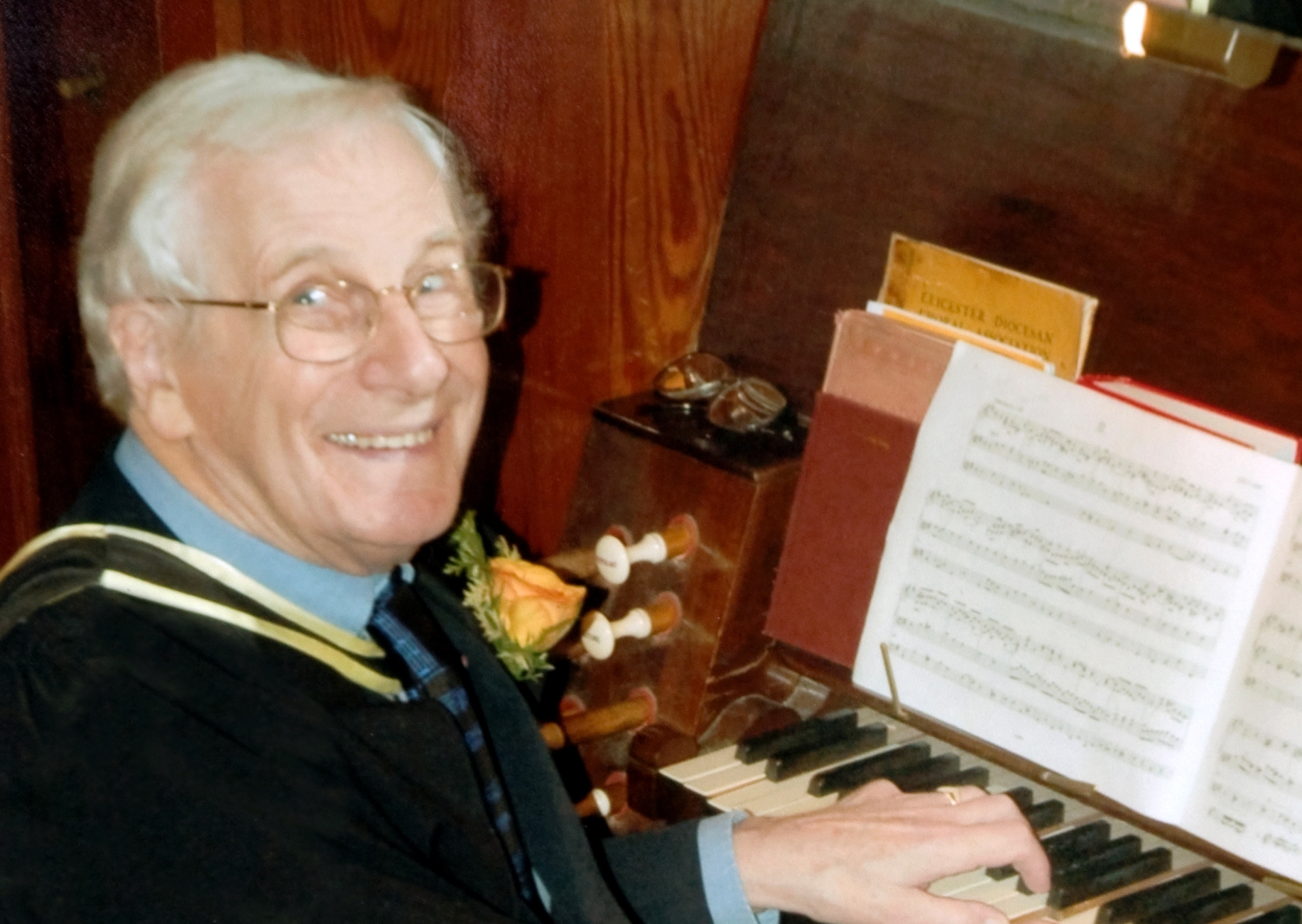 Questions
for John Duckworth
What happens to the music
when the last note on the organ dies away?
When will we share again
his restless sense of wonder
to know and celebrate what's coming next?
How will God answer finally
the harder questions of theology
from this twinkle-eyed and mischievous disciple,
a pilgrim sometimes playing devil's advocate?
Who will now take all the care he took
to make such harmony, balancing life and art,
in music mixing mirth with majesty?
Why must we be left, bereft
of father, uncle, cousin, grandfather,
in-law, friend, teacher, encourager?
And where does it go to, all that love
harvested from over fifty years
of the marriage of two lovers and companions,
as perfect soul mates as you'll ever find
this side of heaven?
If he were here now he would ask
unanswerable questions such as these,
so we should try one final time
to satisfy John's curiosity.
What we reap from love
we plough back into new crops. Look around
at his children and grandchildren
if you needed any proof
and if we are bereft it is
because like him, we are too sociable.
Grief is the price we pay for love.
While we are mortal it cannot be otherwise.
Who else will take such pains? That one's too easy:
watch his grand-daughter's hands on the piano,
his daughter's planning, younger son's delight
in games and questions, and his older son
whose newly-adopted child will know
a family's love that's unconditional.
What of God's final answer? Like any parent
pestered with questions, God can spot
a heart of gold through all the posturing,
for of such is the kingdom of heaven.
In this little church,
too small for us and all our memories,
for fifty Easters he has played
Jesus Christ is risen today
(sometimes set no doubt
to a tune from Mary Poppins)
so he will not be so surprised,
after the silence as the last notes die,
to wake somewhere
that has more answers than even he has questions for
and where to his unquenchable delight
there will be endless music.
---
Read on November 22, 2011 at the funeral and celebration of the life of John Duckworth in the church of St Mary the Virgin, Thorpe Arnold, Leicestershire, where he had been organist for 50 years.
John was Tessa's uncle and cousin - he was cousin to her father Colin, and married to her mother Mary's sister Anne. Colin and John were more like brothers than cousins, so it was rather as if brothers had married sisters, and the extended family is very close.
© Godfrey Rust 2011, godfrey@wordsout.co.uk. See here for permissions.