wordsout by godfrey rust
Words of Art < 3 of 11 > < Poems for BEAT >
---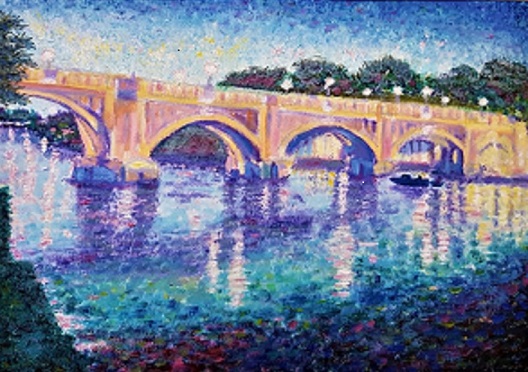 Perception
Without knowing title or provenance
you might think—fin de siècle on the Seine?
Monet on a break from northern France
on the lookout for a bigger bridge to paint?
Or one of Vincent's starry, starry previews?
And is that dark boat slipping through the night
taking Paul Gauguin to daub southern sea views
and native girls in clear Tahitian light?
No, it's only Richmond Bridge, merely
a commonplace suburban London view
that might be glimpsed on any evening early
by residents of Twickenham or Kew
walking to a pub beside the river,
thinking of politics or sport or sex,
nothing to make a dullard's senses quiver,
one of Surrey's minor traffic bottlenecks—
but someone saw it with an artist's sense,
merged coloured paint with what they were
perceiving,
impressionistic filter on the lens,
patiently worked it into art, believing
that craft may fix perception, seize the day.
The city's glow illuminates the night.
Beneath the arch Kew Gardens curves away,
sky, stone and water shimmering with light.
---
One of five poems written by Godfrey Rust in response to paintings at the BEAT (Borough of Ealing Art Trail) exhibit at St John's Church, Ealing in September 2019.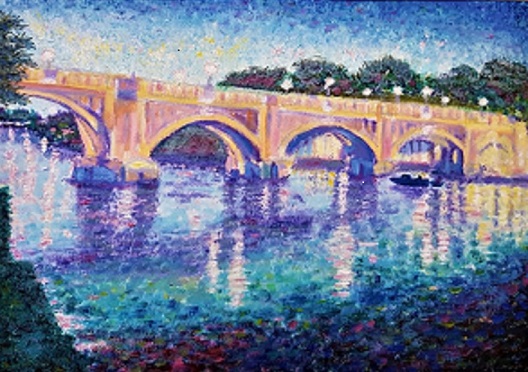 The painting is entitled Richmond Bridge at Twilight, by the artist and © Claire Corbett. Another poem in response to this painting was written by Charles Jobson.
Poem © Godfrey Rust 2019, godfrey@wordsout.co.uk. See here for permissions.