wordsout by godfrey rust
Words of Art < 11 of 11 < Poems for BEAT >
---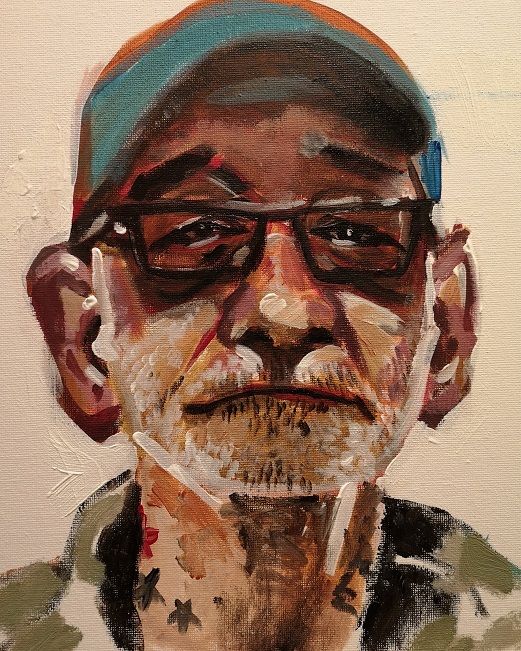 Maybe
it's alright
that you see me
wearing
this mask.
Behind it is maybe.
Maybe my dreams
drowned in a bottle
or went up in smoke.
Maybe there were people
I just couldn't deal with.
Maybe one thing
led to another.
Maybe I was ill or cheated.
Maybe I got caught or fitted up.
Maybe nobody told me it might be different.
Maybe I still have plans.
Thank you for staring at the mask.
Please remember
I can't sleep on a canvas.
I can't eat paint.
---
One of five poems written by Godfrey Rust in response to paintings at the BEAT (Borough of Ealing Art Trail) exhibit at St John's Church, West Ealing in September 2019.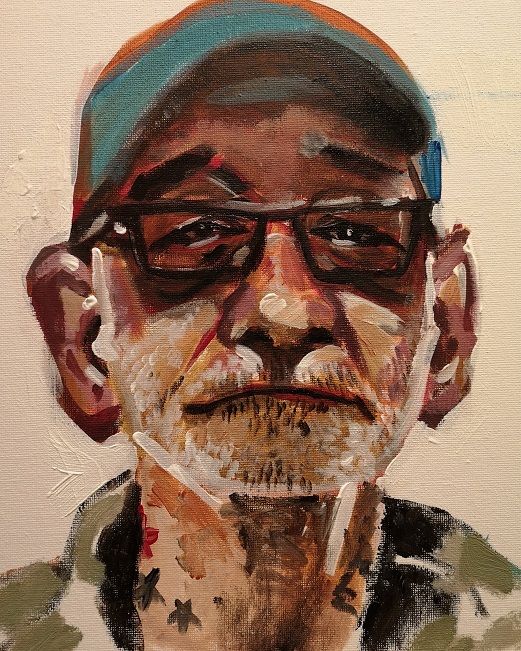 The painting is one of several artworks (photos and paintings) of clients by the artist and © Andrew Mcleay ("Macca"), who is employed to run www.ealingsoupkitchen.org/ . Cafe Church at St John's, West Ealing meets after the Soup Kitchen on Sunday evenings, and many of its members come from or volunteer there.
Poem © Godfrey Rust 2019, godfrey@wordsout.co.uk. See here for permissions.