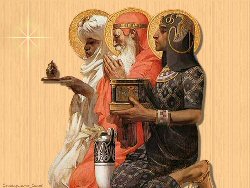 poems and readings for
epiphany
The mysterious nature of the story of the magi, told only in Matthew's gospel, allows it to be re-told many ways as a parable of dedicated search for truth and God. Though often referred to as the "wise men", "three wise men" or "three kings", there is no evidence that the magi were kings, how many of them there were, or even that they were all men.
The Magi sequence of four poems is a contemporary interpretation of the story for any number of voices. Each poem may be used on its own: The epiphany in particular is effective in this way.
The magi at the empty manger places us in the roles both of the bringers and the users of the gifts.
The journey of the magi (cont.) is a light-hearted reflection on what might have happened if they had missed the Bethlehem turn-off and carried on into London in the 20th/21st century. The short poem the magi from the sequence The last straw asks a simple question about truth-seeking.
The fourth king's gift takes a darker view, contrasting the impact of the magi's gifts with Herod's 'worship' through the murder of the innocent children of Bethlehem.
The magi at the empty manger
Any poem from the sequence Magi, especially The epiphany
The journey of the magi (cont.)
The magi from the sequence The last straw
magi from the sequence Prayers of hope
The fourth king's gift from the sequence A Christmas commentary