wordsout by godfrey rust
Days & Seasons back to christmas forward to lent
---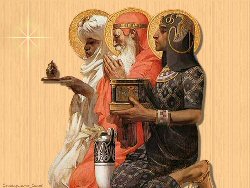 Epiphany
Poems and readings for Epiphany ("revelation"), celebrating the visit of the magi to the infant Christ. The mysterious nature of the story, told only in Matthew's gospel, allows it to be retold in many ways as a parable of dedicated search for truth and God.
---
The magi at the empty manger (for one or three voices)
What will we do with the gifts now? (time 1:45)
The epiphany from Magi
"He just lay there, needing to be loved" (time 3:00)
The journey of the magi (cont.)
Wise men overshoot the Bethlehem exit and turn up in 21st C London
The magi from The last straw
Simple questions about truth-seeking.
A darker view, of Herod's legacy.
Narrative sequence
The story as an allegory of the discovery of knowledge.